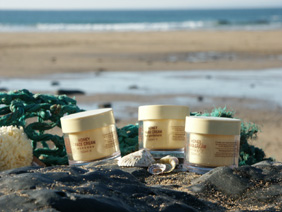 The local environment shapes the way that we operate our business. It's very important to us that we recycle everything possible and always use recycled packaging wherever possible.
We also utilise local businesses to support us to save on the environmental cost of transporting supplies long distances. All of our honey comes from within 20 miles of the factory shop at Mullion Meadows.
We are proud members of 'Made in Cornwall', an initiative set up by Cornwall Council to promote local businesses.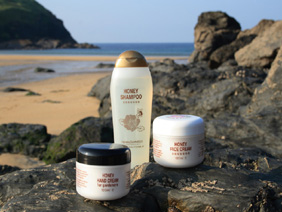 The business has been established for nearly 40 years and since 2006 has operated from our factory shop in Mullion, on the Lizard Peninsula Cornwall.
It is here that we mix our shampoo, shower gel and bubblebath, hand make our soaps and add the finishing touches to our creams. They are then bottled, packaged and labelled by our own staff before going on sale in the factory shop. About 50% of our product is shipped around the world via internet shopping and mail orders.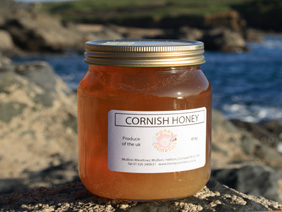 Our long standing customers know the benefit of natural honey as a moisturiser and healer, and most have been buying from us regularly for many years. We are always researching new products to complement our range and the recent launch of Honey Lip Balm was a great success. Soon we hope to launch a hair conditioner and an anti wrinkle cream to expand the range further.
We are always interested in your feedback and you can offer ratings on individual products or use the 'contact us' form to convey any other comments or suggestions.


Honey Cosmetics is a trading name of Skincare Cornwall Ltd Company number 06489308.
Registered office address: Honey Cosmetics, Mullion Meadows, Helston, Cornwall, TR12 7HB


From all of us at Honey Cosmetics - Thank you for your continued support.
Dena Collins
Director